Wednesday, 28. October 2020
CAREER & Competence
The exhibition for Jobs, Traineeships and Career Design powered by
HOFER KG
The CAREER & Competence is the largest job and career fair in Western Austria. The event is a platform where all students and graduates from universities in Tirol get to meet local, national, and international companies and organizations. There is, of course, no entrance fee.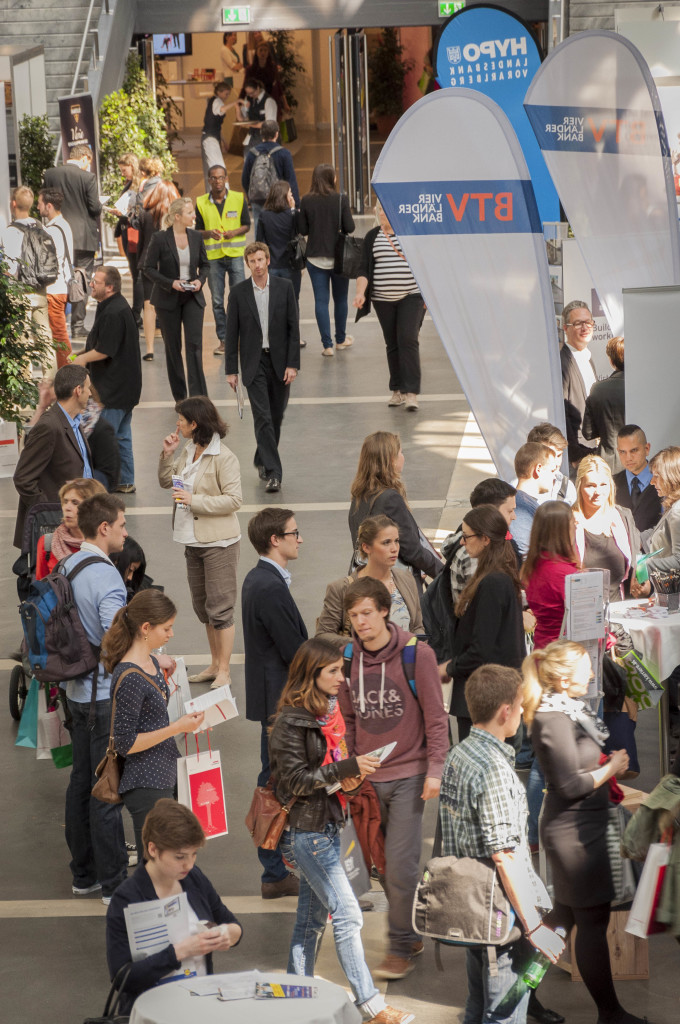 Ca. 56 companies and organizations
… are looking forward to answering your questions during the event. You can inform yourself about job openings or the company in general.
Offers for students and graduates from all fields of studies
Our exhibitors come from a wide field of activities and industries – you are sure to find what you are looking for, regardless whether your field of study involves mathematics, information science, engineering, the natural sciences, law, technology, the economic or social sciences or the humanities.
Find your master program
More than 15 universities from all over Austria will present their different master programs and looking forward to help you.
Opening Hours
Wednesday, 28. October 2020
9:00 – 16:00
No entrance fee
Exhibitors
Ca. 56 exhibitors from the most diverse fields of business offer jobs, internships and consulting during the event.
You can find a list of exhibitors in the exhibitor directory.
Talks
Throughout the day, representatives from different companies and recruiting experts will talk about job applications, career opportunities and career design.
CAREER-Services
Application photo: At the "basics" Stand in the foyer, a photographer will take professional application photos (9:00 – 12:00 and 13:00 – 16:00).
CV check: At the conSALT stand, you can have your application documents checked (please bring a print-out) and you will get detailed feedback and improvement tips.
Free breakfast: The first 100 visitors of the CAREER & Competence receive between 09 and 10 a.m. a breakfast for free.
Free Coffee: You can get a free coffee at the C&C cafeteria powered by Hofer KG.
Of course, all services are free of charge.
CAREER & Competence
Highlights
Free application photo
At the CAREER & Competence you will again have the opportunity to have our photographer take your professional application photo.
Free CV check
Bring your curriculum vitae to the CAREER & Competence and the experts from conSALT will check it in detail and discuss it with you. Success with your next application interview is almost guaranteed!
Free Coffee
Throughout the day you get coffee for free in the cafeteria / Martello Lounge. With the friendly assistance of the HOFER KG.
Free breakfast
Between 9:00 and 10:00, the first 100 visitors will receive a free breakfast at the CAREER & Competence.
Lectures and presentations on the topic of job applications
Throughout the whole day, lectures and discussion panels will be organized in der "basics" CAREER Lounge, covering all aspects and details of job applications. The program will be announced shortly.
Highlights
CAREER & Competence 2019
Questions and answers concerning the CAREER & Competence
What is the CAREER & Competence?
The CAREER & Competence is Western Austria's largest career and job fair and thus THE opportunity for students and university graduates to get in contact with international and national companies.
Use the opportunity to get in contact with different company representatives and inform yourself about different job profiles, job openings, internships offered and company-specific requirements.
There are also service companies that offer valuable tips and tricks how to prepare for a job interview.
On top of that, interesting panel discussions about current topics are waiting for you.
How do I prepare best for the CAREER & Competence?
First of all, you should know what you expect from the CAREER & Competence. Do you simply want to get basic information, make first contacts with a company, test your chances in the job market, or are you looking for a concrete job?
In principle, a successful visit to the CAREER & Competence mostly depends on careful preparation. The first step is to get an overview of participating exhibitors and then research detailed information of those exhibitors that you are interested in. The information about exhibitors and job offers published on our website offers a first orientation. In order to get more detailed info, you should have a look at the individual companies' websites. There you will, among others, find information about the company and job openings currently available.
Once you have collected all relevant information, you should start to think about company-specific questions. This will show the company representatives that you have informed yourself before the event and that you are genuinely interested in their company.
Finally, you should update your application documents.
What documents should I bring along to the CAREER & Competence?
Prepare several application folders that should, at least, include a CV with a photo and copies of your grade reports. If you want to apply for a specific job offer, you should not forget to bring along a suitable motivational letter.
How do I conduct a successful meeting with an exhibitor?
The key to a successful meeting at the CAREER & Competence is good preparation (see above) and a good start. If you only want to collect general information, a short greeting is enough. If, however, you are interested in a longer conversation, you should introduce yourself in greater detail and mention your name, field of studies and interests. Then you can steer the conversation in the desired direction by asking the questions you prepared. During the conversation, try to mention your qualifications and competences when appropriate.
If the meeting turns out well, you can offer your application documents to the company representative or collect his/her business card.
After each meeting, you should take notes on how it went – in case you want to contact the company again. Among others, take down the names of your meeting partner(s), what the conversation was about, the direction the conversation took and what follow-up activities you and your meeting partner agreed on.
How do I stay in contact with the company after the CAREER & Competence?
If you have received a business card in the course of the meeting, you now have a contact partner in the company. In the days following the event, send a thank-you mail to your contact, and add missing documents if necessary.
If you were asked to send an e-mail application subsequent to the event, you should not forget to include a reference to the meeting you had.
If you don't get any feedback within two to three weeks, you can contact the company by phone.
How should I dress for the fair?
The first impression counts – and this also applies to career fairs. This means that a person's outward appearance is very important for the success of a meeting. Make sure you wear business attire, for example, a suit and shirt or a ladies' suit with a blouse.
Do I have to register for the fair or pay an entrance fee?
No! Entrance to the fair is free of charge for all visitors and no registration is required.
Who can visit the CAREER & Competence?
The CAREER & Competence has been designed for all those who are looking for jobs or internships or simply want to get in touch with exciting companies and organizations. However, the event focusses mostly on students as well as graduates and young professionals from universities and universities of applied science in Tirol.
Do you have to register for application photos / cv checks?
No. Registering or reserving a time for free application photos and cv checks is neither necessary nor possible.
We would, however, like to point out that this service is very popular and in great demand. Therefore, it makes sense to be at the fair early.