Keyence International Belgium
KEYENCE is an international Japanese company that produces technology for cutting edge manufacturing. Our company was founded in 1974 and the headquarters is in Osaka.
Our customers are in multiple industries such as automotive, pharmaceutical, food, etc. They buy our products to increase safety, efficiency, automation, and R&D efforts in their facilities.
KEYENCE products play a key role in factory automation by increasing productivity, improving quality, and decreasing cost.
If we look at the accomplishment that the company is having, we are proud to say that we are in:
Top 100 Forbes, The most innovative companies; since 2011 and in Top 50 Value Creators since 2015.
At this moment the company has a coverage of more than 90% of the worlds active industry's and more than 70% of our products are Worlds first.
When it comes to the global network, Keyence can count 8,961 employees globally which is still growing with each year. We have expanded to 230 offices in 46 countries, so we have a strong global presence where we are doing business with more than 300.000 clients.
KIB (Keyence International Belgium) is including following countries: Austria, Belgium, Czech Republic, Hungary, Poland, Romania, Slovakia, Slovenia. In those 10 EU countries, we are about 550 people who are speaking combined more than 20 languages!
Sales is the largest function at KEYENCE and operates via our unique Direct Sales model. Customers don't order products from an online catalogue. Instead, they buy directly from our salespeople after an in-person consultation and product demonstration.
What is working at KEYENCE like? Our employees like to say a role at KEYENCE isn't a job, it's a career! From hands on training to our exclusive promote-from-within development model, KEYENCE puts the priority on our most important resource: People! Want to learn more? Please click below: sales_engineer.pdf (keyence.eu)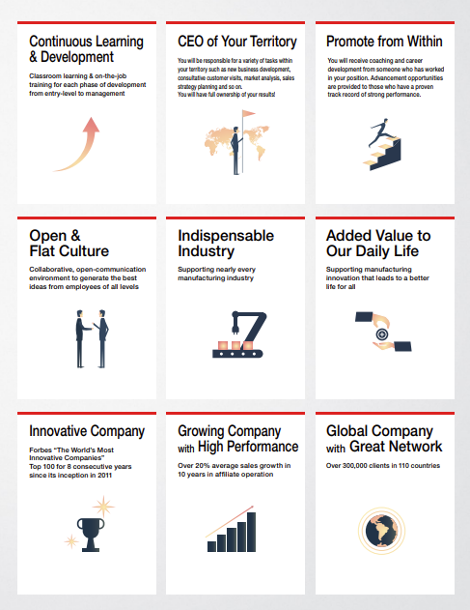 Let´s meet! 26. April 2023, 10 -16 Uhr, Congress Innsbruck